The project to build a shelter "ORPAK" Kruševac
INVESTOR: required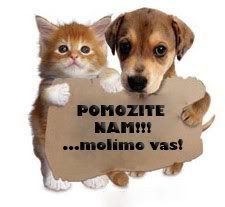 ORPAK is a humanitarian, non-governmental, non-partisan and not-for-profitorganization working to improve animal protection and promote animal rights inthe city of Krusevac, Serbia.  Founded on 06 April 2010, in the last yearand a half, ORPAK managed to get off the streets of Krusevac, heal and re-homemore than 550 animals.  Furthermore, we havesaved and returned to their natural habitats a number of wild animals, amongthem two squirrels and a couple of eagles. Unfortunately, an eagle had to have a wing amputated and was hence placedinto a sanctuary. 
Apart from raising people's consciousness (through stalls and flyers promotingadoption,  sterilization and how to carefor companion animals, by organizing humanitarian parties, re-homing events,campaigns such as "I'm not a murderer!  Iam a responsible guardian", urging people to sterilize their pets through ourorganization at half price, and manifestations presenting mixed-breed dogs), wefight against animal abuse on a daily basis. We report cases of ill-treatment to competent authorities and issuewarnings to irresponsible guardians when in breach of the Law on Animal Welfare.  We also endeavor to support those who carefor animals but are in financial hardship.
To carry on with efforts to protect the abused and abandoned animals, thereis a pressing need for ORPAK to acquire a piece of land for setting up a sanctuaryfor unwanted dogs and cats.  The priceshere in Krusevac range between 100 and 200 Euros for 1 Are (100 m2).   Together with costs of construction, theoverall amount is well in excess of our financial capabilities.  Donations from our supporters, which spanbetween 6.000 and 10.000 Dinars (60 – 100 Euros) per month, all go towards food,medications and surgical interventions.  As we are invariably short of funds, our active members (altogethereight) give additional contributions to ensure animals are fed.  We regularly appeal to caring people todonate either food or funds.  
To achieve optimum spatial arrangement and functional flow between differentparts, the Sanctuary would need to be in the shape of a rectangle, with entryoff the main road for easier and more efficient access. 
The main building will be prefabricated and divided into several parts.  Section I will comprise:
1.      FoodStorage: 10 m2
2.      VeterinaryUnit with Pharmacy:
- examination room: 10 m2
- surgery: 10 m2
- pharmacy: 5m2  – Total Area 25 m2
3.      Quarantinefor Sick Animals: 15 m2
4.      Post-opIsolation Unit: 15 m2
5.      AnimalBathing Facility: 10 m2
6.      AnimalFood Preparation Unit (kitchen): 10 m2
7.      HygieneMaintenance Storage Facility (with washing machine): 10 m2
Overall Section I Area –approx  95 m2
Section II of the main building will be on the upper level, exclusively forthe staff and public relations
1.     Office Area with storage for records on animals in theSanctuary (log book for admissions, treatments, re-homing, sterilization,vaccination, deaths), a reception area for visitors and clients, manager'soffice, meeting room, and an area for dog training and pre-adoption assessment for suitability as companion animals - 20m2, plus-4x10m2=40m2 -  Total: 60m2,
2.     Changing / shower Room for staff after cleaning andfeeding animals – 10 m2
3.     Storage Room for collars, leashes, food bowls, shovels,gadgets for dog training, transport cages, sleeping cushions – 10 m2
4.     Staff Toilets – 5 m2
Overall Section II Area – approx  85 m2
Dog and Cat Sanctuary Design
Ideally,the open space area for 100 dogs is a minimum of 0.5 hectares, even more if alarger group of dogs has been living within the same area over a longer period oftime. 
Most dogsin shelters spend their lives imprisoned in small overcrowded boxes.  Incarceration, boredom and anxiety of largenumbers of dogs with different character traits create high levels of stressand aggression, which often result in serious physical injuries, evendeath.  The only way to alleviate suchstressful conditions is for the dogs to be free all of the time, making itpossible for them to move around where and when they want to.  This would create a much calmer environmentwithin the Sanctuary. 
The mostsuitable foundation for areas outside of the boxes would be used bricks with alayer of sand on top, while for the most part the surface area of the Sanctuarywould be covered with grass, shrubs and trees to provide shade.   In our experience, sand is the best optionin terms of cleaning, maintaining general hygiene and reducing fowl smells. 
It is very important to create various environment options considering that dogs,just like people, have different character traits:
·        some are traumatized and prefer/need peace andquiet,
·        others are more social and want to play,
·        old and feeble dogs need a quiet and safe corner,and
·        "aggressive" dogs need more space to overcomedifficulties stemming from their previous experiences (such as being on a shortchain or in a small box).
To provide options for the dogs to withdraw or move around as theywish,  the area needs to be equipped withshelters (kennels), little ponds, hillocks, tree stumps, logs,  and objects to play with (wood sticks, empty plasticbottles, old rags, etc) and keep them entertained. 
For dogs with special needs, such as former fighting dogs, aggressive dogs,those in quarantine, very timid dogs or puppies, it is best to provide separateboxes, each with an exit to an outside area laid with bricks and sand.  This is a good option since dogs chose to goto the toilet outside when given the opportunity, which makes it easier to keepthe place clean and prevent fowl smells in the boxes.
Example of a box for old or aggressive dogs: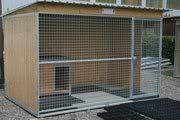 Each box should be one part (half) solid build and the otherpart fitted with wire fencing to facilitate social contact between thedogs.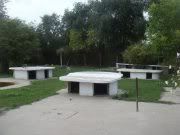 Experience has shown that wooden houses do not last long, are not suitablefor maintaining sufficient levels of hygiene and as such increase thelikelihood of spread of disease.  Allhouses need to be elevated 10 cm off the ground  to avoid being flooded by rain, melting snow, hosing,etc.
Each house needs to be surrounded by a concrete area at least half a meterwide.  Roofs of houses inside the boxesneed to be made of wood, as lids, where dogs can lie, sit or sleep.  Roofs of houses outside of the boxes should beflat, made of concrete or wood with sheet metal facing. 
Houses can be lined with hay or straw (danger of  scabies), which provide warmth and can be changedeasily. 
Rags are quite unsuitable as they need frequent washing and changing.  During summer, dogs tend to sleep on concreteand drag any matting outside.  Wooden pallets(without holes and inter-spaces) provide warmth, but need regular washing andsanitizing. 
It is very important to keep the puppies in a different spot and separatefrom each other, to prevent them from touching and having contact with otherdogs or puppies.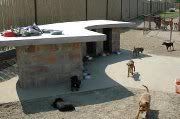 Because of infectious diseases, it is highly recommended that all kennels inthe sanctuary, and especially for puppies, are made of concrete or bricks. 
In terms of available ground configuration and financial resources, oneneeds to design and create an environment that will be pleasant both for thedogs and for the people.   
Most importantly, the area needs to be interesting, versatile and well sizedfor the number of dogs living there. 
Dog quarantine: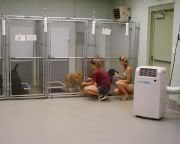 Cat quarantine:
Indoor type cat shelter 30 m2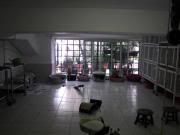 Outside cat shelter (voliere):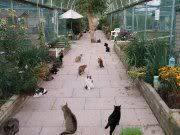 To approach the problem of abandoned animals in a humanmanner, in addition to the Catch-Neuter-Release (CNR) program, our city needsto have a NO KILL Shelter.
CURRENT SITUATION IN KRUSEVAC AND BASIC PROBLEMS IN REDUCING THE NUMBERSOF ABANDONED ANIMALS
According to surveys we have carried out, the situation is as follows:
1)     On the territory of Krusevac, there are approx 3,500abandoned and stray dogs and approx 8,000 cats.
2)     Nocharges are brought against irresponsible guardians ("owners"
who each yearthrow out 2 – 3 litters of unwanted babies as well as grown up companionanimals they no longer want to care for, increasing thus the numbers ofabandoned and stray animals. 
3)     The CityCouncil is not implementing the CNR program, or sterilization of animals in theCity Shelter creating thus additional unwanted animals.
4)     There isa general attitude of neglect and unwillingness among the citizens to walk theircompanion animals out in the open, as no public area has been allocated for thatpurpose.
5)     Our citylacks a unified data base for companion and abandoned/stray animals that havebeen neutered.
6)     Thestandard of general education is low and there is little awareness ofepidemiological, epizootiological, ecological and esthetic issues caused byinadequate housing of dogs and cats, or disposing of organic garbage, whichmakes it readily accessible to abandoned animals.
7)     There isno register of animal protection organizations working in the public interesttowards alleviating the problem of abandoned and stray animals.  Furthermore, there is no program of collaborationbetween the local authorities and such organizations or veterinarianinstitutions providing sterilization.
     Thereare no data about the number of institutions and their capacities forimplementation of the sterilization program; also, there are no data about thenumber of legal, registered shelters and boarding facilities for dogs who haveguardians ("owners"
and those who are abandoned. 
9)     Noinstitution is responsible for planning and implementation of a program tocontrol the size of the population of abandoned dogs and cats, while thepurpose of the existing shelters (public and private) is not clearlydefined.  This situation is confusing forthe citizens and makes such organizations dysfunctional.  There is no authority that would continuouslymonitor the abandoned dog and cat populations, keep track of any changesthereof and discern the causes of fluctuations in their numbers in order toidentify priorities and ways of reducing them. The existing services that catch and put away stray animals areinefficient and they lack up-to-date equipment designed to inflict the leastpain, fear and agitation.  Furthermore,the existing premises also lack proper equipment and space, with a capacity foronly 50 dogs in a city with approx 140,000 inhabitants. 
10) Our cityis lacking a centralized service for giving out information, for example, aboutthose who have abandoned their animals. In other words, consistent relations with the public that would providerelevant information and education are non-existent. 
Before we can begin to tackle the above mentioned problems and implementappropriate measures, what we need to acquire is adequate space for housing theabandoned animals in a way that is safe, both for them and the people of ourcity and give them a normal life. 
 NEWS!!! WE MANAGE TO BUY A LAND 1 HECTAR
NOW WE NEED INVESTOR SO WE COULD BUILD A SHELTER FOR MANY CATS AND DOGS AND ALL OTHER ANIMALS WHO NEED SAFE PLACE WHERE THEY CAN LIVE IN PEACE <3